Musicians and Singers


appearing at Dalwood Music Day 2017




An evening of Gershwin Music and Song
with
Laura Collins
, Julian Marc Stringle
and the Craig Milverton Trio

It's no wonder that, since turning professional,

Laura Collins has been creating a huge buzz.

A sophisticated singer with style and wit to boot

her work wins hearts and minds.





Julian made his TV debut with Acker Bilk when he was just14. The show featured Julian's teenage Dixieland band "Young Jazz"

which included the Sidwell brothers on Trumpet & Trombone, Paul Clarvis on Drums, Andy Cleyndert on Bass, Pete

Neighbour on Sax and Sam Brown vocals. At 17 he formed a Modern Jazz quintet and toured Europe with Dave Cliff, Nick Weldon,

Andy Cleyndert and Mark Taylor.

"Julian is a breathtaking clarinet player with faultless technique, inate harmonic judgement, and his own distinctive melifluous sound He is a consummate artist, whose life has been dedicated to his craft. Today, his place among the ranks of the all- time greatclarinettists is assured." Digby Fairweather



Sandy Sucholdolski Nick Millward Craig Milverton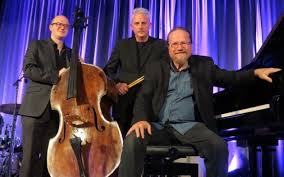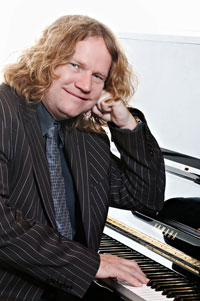 CRAIG MILVERTON
Britain's nearest to Oscar Peterson" Digby Fairweather
"A master of whatever he chooses to perform, a truly great British Trio" Humphrey Lyttleton

"An extravagantly gifted pianist with an unrivalled swing" Dave Gelly, The Observer
"A hard swinging pianist whose chops certainly bring to mind, the great Oscar Peterson"
Cadence magazine, USA
"Surely one of the most gifted British pianists with technique and Imagination in abundance" Le Jazz Hot, France
"World class solos... such a gifted all rounder should be cherished by the entire jazz fraternity" Jazz Journal
Craig Milverton is one of Britain's finest Jazz Pianists and this was recognised in 2010 by winning Best Jazz Pianist in the British Jazz Awards and 10 Awards with Digby Fairweather and his Half Dozen in the Best Small Group Category. He also has many projects , including Trichotism alongside the Brilliant Award Winning Guitarist Nigel Price based loosely on The Oscar Peterson drumless Trios , His Tribute To Oscar Peterson Show which features the superb Canadian Guitarist Dominic Ashworth , gifted young Ray Brown inspired Bassist Sandy Suchodolski and the great swinging Drummer Nick Millward . Also The Clarinet Maestros featuring 2 of The worlds Top Players, American Ken Peplowski and Julian Stringle who have recorded 2 Acclaimed CDs and Tour the UK annually . His trio, is often used to back a Host of top names at Clubs and Festivals across the UK and Europe . Artists include Stacey Kent, Jacqui Dankworth and Scott Hamilton.

He works regularly with Digby Fairweather and his Half Dozen and was accompaniest to Blues Singer George Melly with whom he recorded 3 CD's one of which featured Van Morrison . He plays regularly at One of the worlds most famous Jazz Clubs Ronnie Scott's, and has toured and performed at top venues and festivals across the Globe.


Ashley John Long, Nick Millward & Craig Milverton

Bass Drums Piano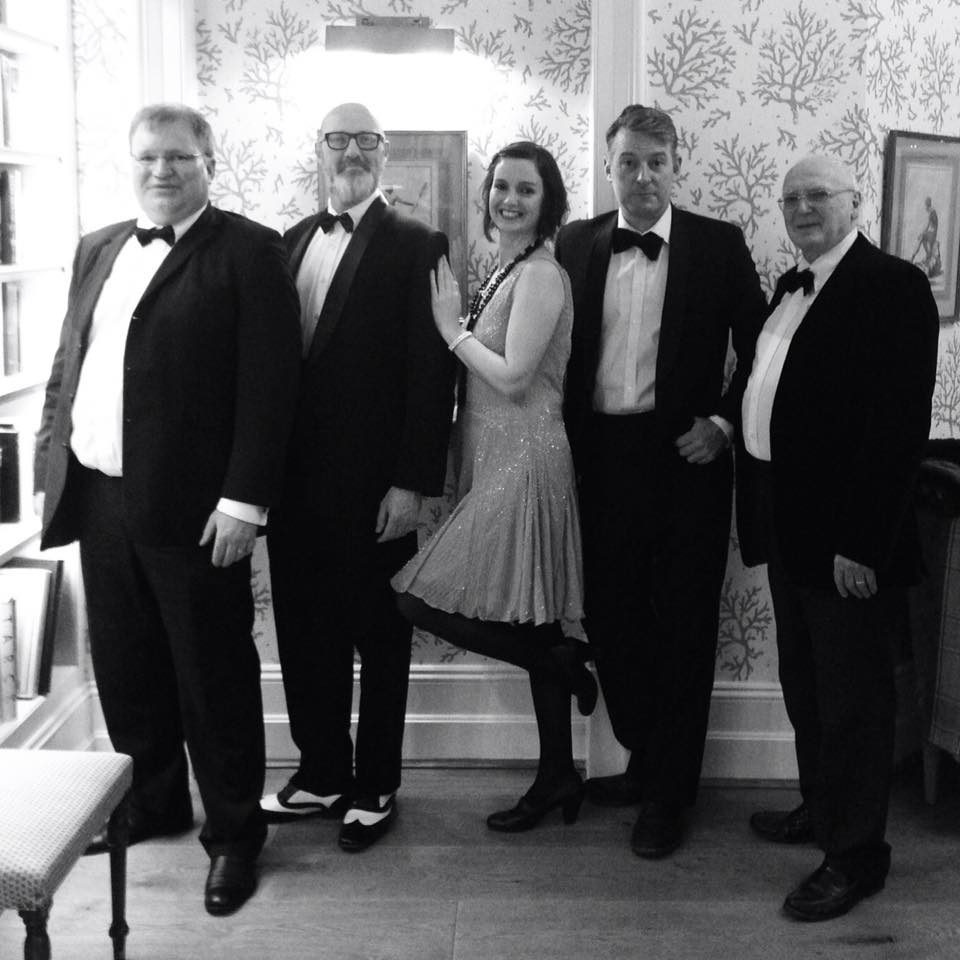 Rachael Roberts

and

The Gatsby Gang


Rachael Roberts - vocals

Tony Roberts - sax & clarinet

Richard Llewelyn - guitar

Marc Juan - drums

James Budden - bass













Vintage jazz from the 1920s and 30s performed by Rachael Roberts & The Gatsby Gang.
Inspired by the vocal performances of legendary figures such as Sarah Vaughan and Billie Holiday, the band play
a unique selection of classics in swing and blues styles.
Silky toned vocalist Rachael is joined by Tony Roberts (sax/clarinet), Richard Llewellyn (guitar)
James Budden (double bass) and Marc Juan (drums



Silky toned vocalist Rachael is joined


by Tony Roberts sax/clarinet),


Richard Llewellyn (guitar)


James Budden (double bass)


and Marc Juan (drums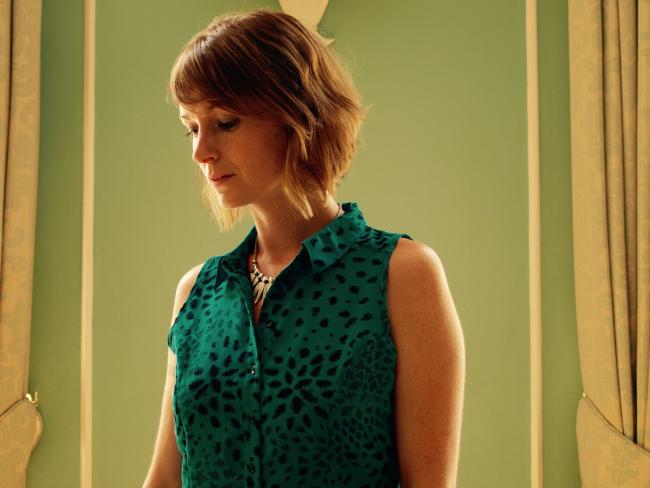 AXE VALLEY

COMMUNITY CHOIR


WITH EDWARD JACOBS

MUSICAL DIRECTOR




The Axe Valley Community Choir was formed to bring together

people of all ages and abilities to enjoy the fun of singing together

As well as the Social benefits, members have the opportunity to

enhance their singing capabilities and participate in fundraising

events within the Community.

Our repertoire is extensive and includes a wide variety of popular

ballads both traditional and modern.

Members came from all over the Axe Valley and further afield -

some from Lyme Regis, Sidmouth, Chard, Honiton & Seaton.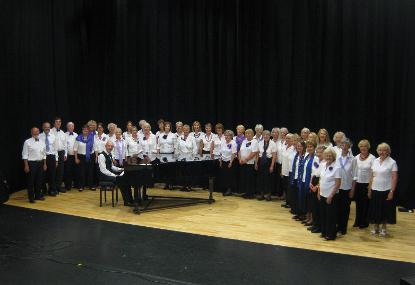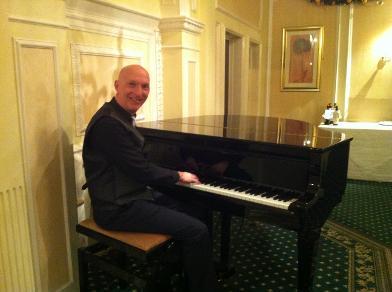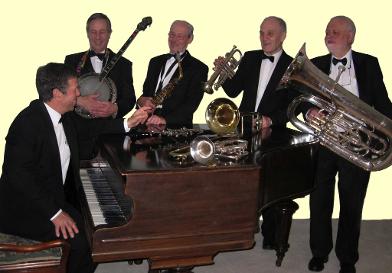 Dave Martin's "Jabbo Five"






Dave Martin - trumpet, Hugh Roberts - clarinet & tenor sax, Mike Lancaster - sousaphone & trombone,
Phil Blandford - piano and Pete Miller - banjo and guitar

The Jabbo Five, formed in May 2010, was set up with the express purpose of playing in the style of Jabbo Smith - hence the name.The line-up of cornet/trumper/valve trombone, clarinet/saxophone, banjo/guitar, sousaphone and piano allows an exciting, lively and uncluttered interpretation of the music of Jabbo Smith and his Rhythm Aces, who recorded 22 tracks in 1929. After this outpouring of exuberance, which, at the time, rivalled the brilliance of Armstrong's Hot Five, Jabbo faded into obscurity. Re-discovering these tracks is an exciting adventure for the band.
Jabbo, and his banjo player Ikey Robinson, wrote some wonderful numbers which are seldom heard, and we aim to master as many of these as we can. However, the band is not restricting itself solely to Jabbo numbers. Jazz fans will also recognise a sprinkling of deservedly popular standards in any Jabbo Five performance. What's more, our sousaphone player is a fine trombonist and this allows us to perform some of the seminal numbers played by Louis Armstrong and his Hot Five.
The band plays mainly in the South West of England. As well as pubs in Devon, Somerset and Avon we have performed at various clubs - 51 Club of Cornwall, Bude, Preston Cross, Brunswick (Bristol), Plymouth Sherborne, Weymouth, Amersham and Watford. We have also enjoyed going to several festivals - Bude, Teignmouth, Lyme Regis, Swanage, Upton and Pershore - as well as to a jazz weekend at Mill Rythe.
YOUNG MUSICIANS FROM ST. MARY'S

CATHOLIC PRIMARY SCHOOL,

AXMINSTER


St. Mary's School String Orchestra (Axminster)
with Rachel Burrough - Musical Director
(at last year's Music Day)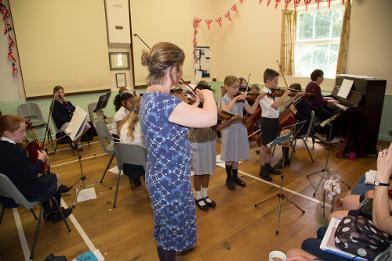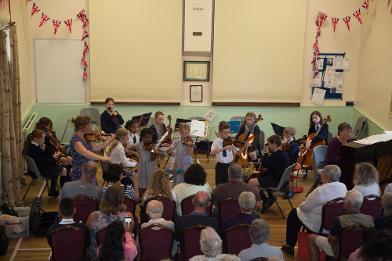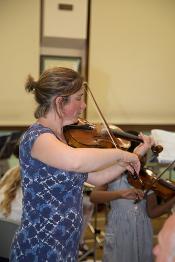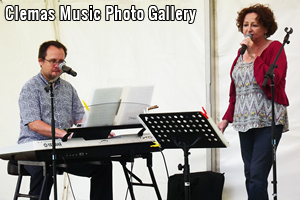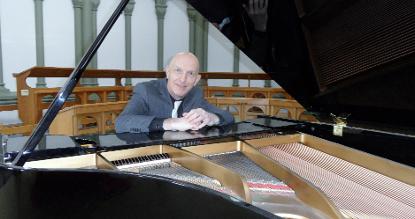 TRI-CHORD



A dynamic trio featuring well-known musicians James & Hilda Clemas (of "Jazz Lounge" fame) and Edward Jacobs
(Musical Director of the Axe Valley Community Choir)

A great sound is promised with vocals and dynamic

multi keyboards.... Up-tempo, Jazzy, Modern and

Romantic Renditions of well known popular songs.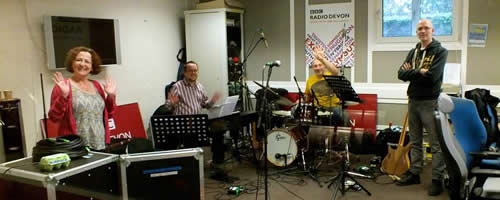 DOUBLE DIAMOND


EMILY SEWARD & DAVE BENNETT


Sparkly singing Duo from Dalwood.










Double Diamond have been performing as a singing duo

since 2016.

We cover a variety of some of the best songs produced

over the past 50 years including swing, soul, pop and

rock.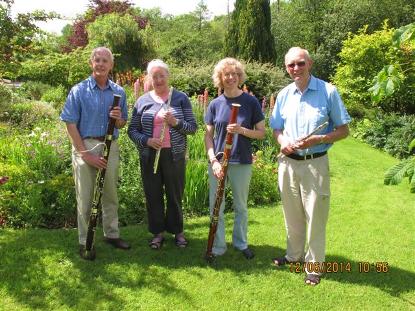 Peter Dawson Helen Smith


Angela Drake & Jeremy White







WOODBURY WIND




Woodbury Wind is a many-sided Ensemble of wind

players who have been performing classical music in and

around Axminster for over 30 years. Over that time,

they have performed in ensembles of all sizes from

Trios, Mozart's piece for 13 wind instruments and in

various venues - Churches, Church Halls, Axminster's

Twin Town in France - Douvres-la-Delivrande and for

various events including Axminster's Music at the

Minster, weddings, church services & local Festivals.


The Programme on Music Day will be light-hearted

pieces for a Summer's Afternoon played on flute, oboe

and bassoon.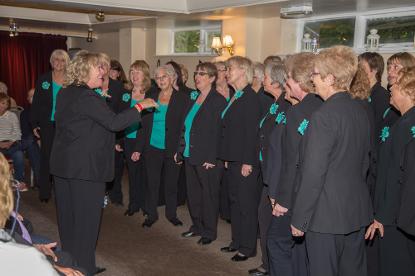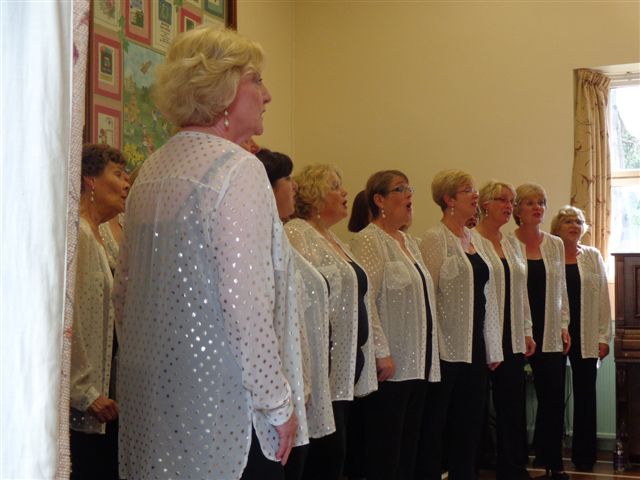 RENAISSANCE CHORUS

Ladies A cappella group from Exmouth

Our group started a little over 11 years ago with only 8 enthusiastic members and a wonderful Musical director, Maire Hoppins and now we have over 40 members and are going from strength to strength. During the years, as we progressed with our music, we have entered many competitions and festivals. We have won Exeter Music Festival on numerous occasions, have competed twice in the Jersey International Choral Competition coming a very respectable second in our class and have travel to Sligo for a wonderful fun-filled weekend of singing and fund raising for Sligo Men's Barbershop Chorus.

We sing all over East Devon for fun, entertainment and funding raising for charities and have now made two C.D's with profits of our latest album, "And so it goes...." going to Freewheelers Emergency Voluntary Service the registered charity that provides a free out-of-hours motorcycle courier service to hospitals in the South West of England.

Our style of music is very eclectic; we sing songs ranging from "Le Canon" to Adele's version of that wonderful Bob Dylan song "To make you feel my love"

We are very pleased to be asked to sing at Dalwood Music Day and hope that weather holds and everyone has a wonderful time.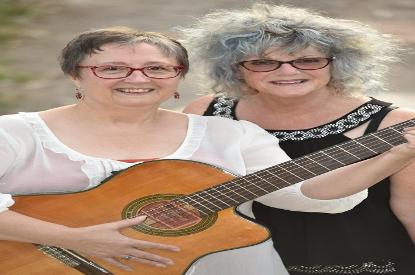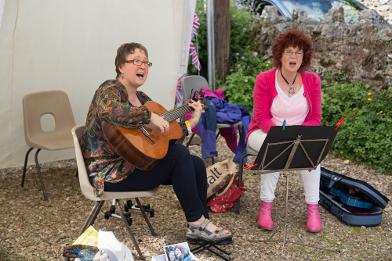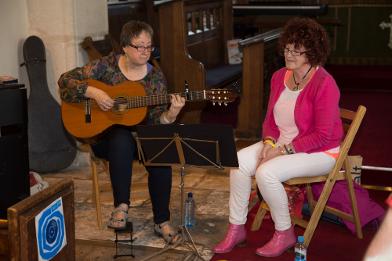 Shirley & Sharon at Dalwood Music Day 2016




SHIRAZ
-
silky, close harmony vocals are the hallmark of these two Bridport singer/songwriters.

Their music has been called folk, sometimes country, sometimes rock … whatever the case, these ladies love to entertain!

2017 appearances will include festivals in Wimborne, Langport, Poole, Bridport, Lyme Regis and many other events ......

Dalwood being a favourite!

Check out the SHIRAZ diary on

www.facebook.com/Shirazsinging or contact Shirley on 01308 424289 for private bookings.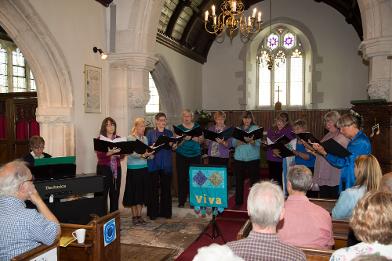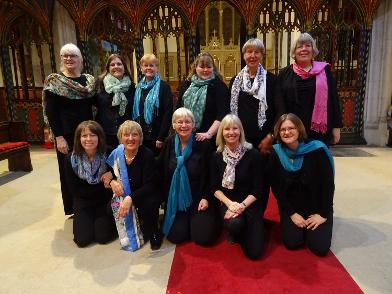 VIVA
We are 'Viva', a newly formed women's choir, drawn mainly from the long established and acclaimed Sheldon Singers. We are a small, but perfectly formed group of twelve friends who meet up in Honiton once a month to sing, chat, sing, laugh and above all, sing.
Led by the musical dynamo Julie De'Ath Lancaster, we enjoy a wide variety of styles from Schubert & Brahms to Rutter & John Denver.
We are very much looking forward to being part of Dalwood Music Day, when we will be accompanied on the piano by Paul Hockey, a patient man who will no doubt keep us in order.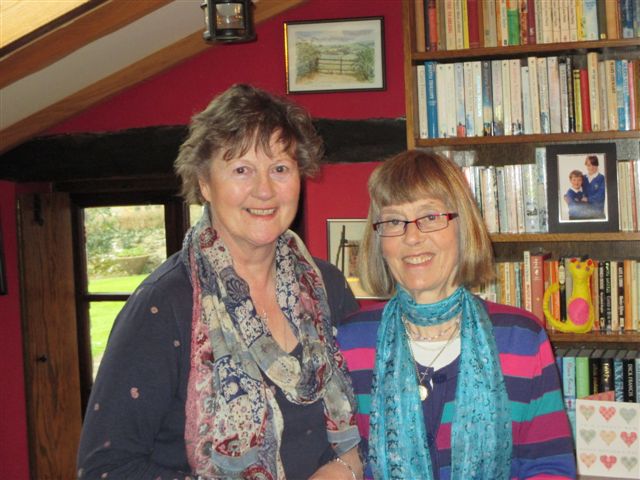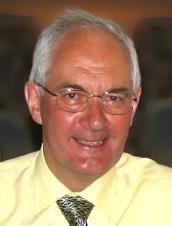 Maggie Lane, Annette Freathy and Michael Bradbury
A trio of keyboard, flute and various early wind instruments playing an eclectic mix of old and new
from Telemann to the Teddy Bears' Picnic
"Piping Hot" are three friends (Michael, Maggie and Annette) who get together to play varied music ranging

from well-known folk tunes to tuneful classics for special occasions, preferably for "good" causes.

They play different "pipes" with keyboard accompaniment.



THE CORRYDALE SINGERS FROM DALWOOD


The Corrydale Singers

We take our name from the Corry Brook that flows through Dalwood. For over 30 years the Corrydale Singers have been

entertaining Dalwood and the surrounding villages. Our annual show is in August, for 4 nights in the week following

Dalwood's famous Country Fair and at Christmas we host an event staring village organisations. We are pleased once again
to be a part of the Dalwood Music Day, and will be singing a selection of popular songs.



THE OLD PECULIARS


Dalwood's Best Boy Band!!!!!



Barbershop style songs

with Kathy Laing at the piano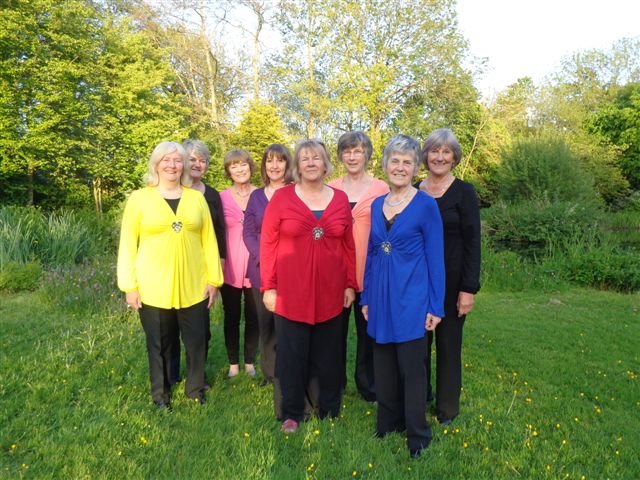 THE KROFT ORIGINALS
- hosts of Dalwood Music Day

The Kroft Originals started about 14 years ago as a small group of 4 friends just singing for fun & trying out

a few harmonies.

We have expanded since then - in every sense of the word!!

Taking part in our very first concert in Dalwood was so nerve-racking that we resorted to taking very little sips!!!!

of the famous sherry from a plastic bottle.... Hence the name!

We now get bookings to entertain at various celebrations - lunches, Christmas parties & local concerts etc.

and we have performed at the Arts Cafe Festival (Arts in the Garden) for about 9 years.

The money we raise goes to Charity. We have supported Devon Air Ambulance, Devon Freewheelers &

the new Hospicecare Centre in Honiton and The Project (another local organisation).

We still sing for fun of course - and we still try out a few harmonies.
We welcome you to our Sixth Music Festival and hope you have a lovely Day!