Musicians and Singers


appearing at Dalwood Music Day 2019




Evening Concert - 8pm in the Village Hall
La Vie en Rose - Gipsy Jazz Band from Exeter
Tickets in advance £10 from Dalwood Shop
or t.mackenney111@btinternet.com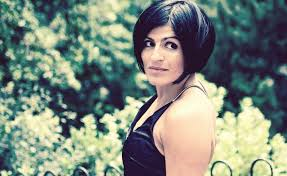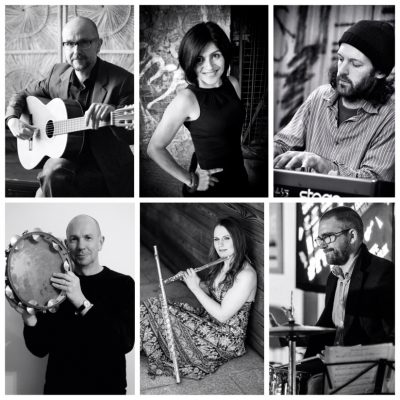 Orpheus is an exciting six-piece Latin / Brazilian jazz project brought together by a mutual love of Brazilian music and led by Swedish
singer Annika Skoogh. The group's sound is a potent mix of uplifting sambas, stunning bossas and 60's soul jazz. Annika adds another
dimension to their performances by singing the majority of the songs in their native written language of Portuguese. Her sextet of very
accomplished musicians are;
Steve Dow (guitar), Gary Evans (drums), Jade Gall (flute), Martin Jenkins (organ) and Colin Seddon (percussion).
The Band Members are artists in their own right and are involved in various projects both locally and nationally.
The musicianship is clear to see when these players come together and they produce an enthralling and captivating
sound.

AXE VALLEY

COMMUNITY CHOIR


WITH EDWARD JACOBS

MUSICAL DIRECTOR




The Axe Valley Community Choir was formed to bring together

people of all ages and abilities to enjoy the fun of singing together

As well as the Social benefits, members have the opportunity to

enhance their singing capabilities and participate in fundraising

events within the Community.

Our repertoire is extensive and includes a wide variety of popular

ballads both traditional and modern.

Members came from all over the Axe Valley and further afield -

some from Lyme Regis, Sidmouth, Chard, Honiton & Seaton.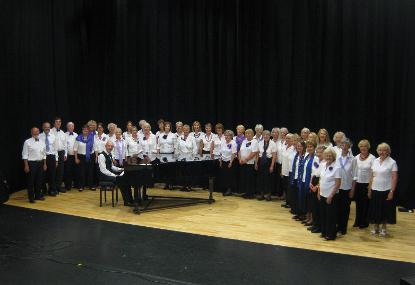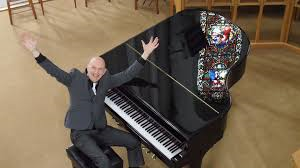 THE CRAIG MILVERTON
LEGACY BAND
with Craig on piano,
Eleisha May Milverton - vocals,
Ben Milverton - guitar,
Ashley John-Long - bass and
Nick Millward - drums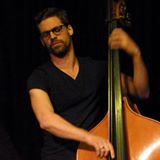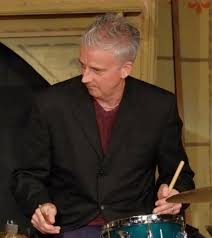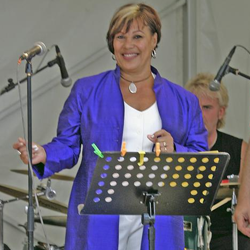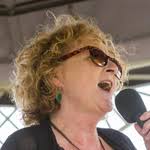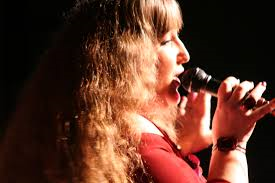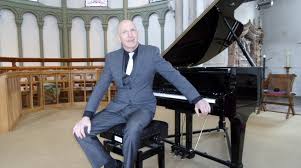 Maggie Reeday Hilda Clemas Paula Mitchell Edward Jacobs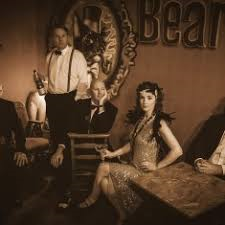 YOUNG MUSICIANS FROM ST. MARY'S

CATHOLIC PRIMARY SCHOOL,

AXMINSTER


St. Mary's School String Orchestra (Axminster)
with Rachel Burrough - Musical Director
(at last year's Music Day)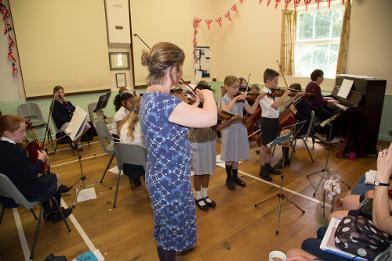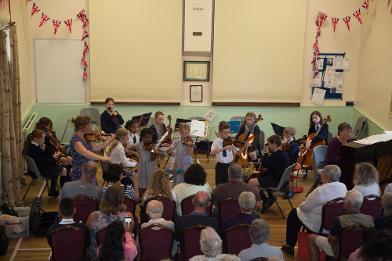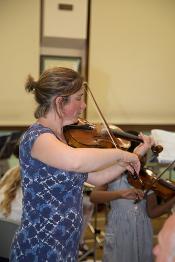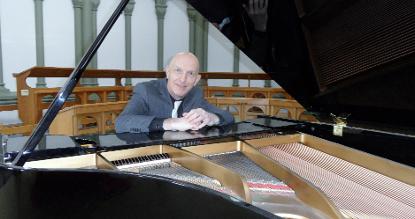 A dynamic quartet featuring well-known pianist Edward Jacobs and The Three Divas - Hilda Clemas,
Maggie Reeday and Paula Mitchell.
(Musical Director of the Axe Valley Community Choir)

A great sound is promised with vocals and dynamic keyboard - Up-tempo, Jazzy, Modern and Romantic Renditions of well known popular songs.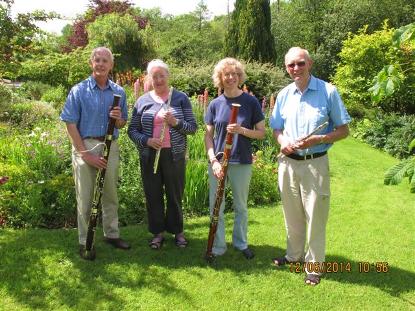 Peter Dawson Helen Smith


Angela Drake & Jeremy White







WOODBURY WIND




Woodbury Wind is a many-sided Ensemble of wind

players who have been performing classical music in and

around Axminster for over 30 years. Over that time,

they have performed in ensembles of all sizes from

Trios, Mozart's piece for 13 wind instruments and in

various venues - Churches, Church Halls, Axminster's

Twin Town in France - Douvres-la-Delivrande and for

various events including Axminster's Music at the

Minster, weddings, church services & local Festivals.


The Programme on Music Day will be light-hearted

pieces for a Summer's Afternoon played on flute, oboe

and bassoon.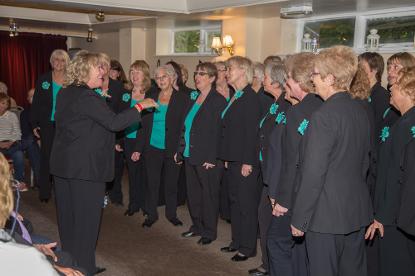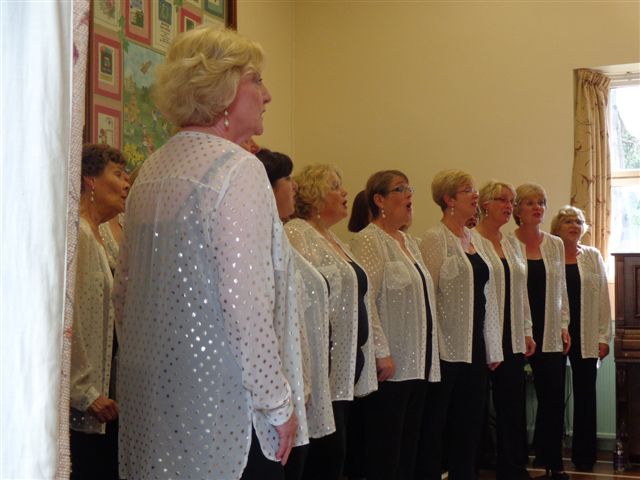 RENAISSANCE CHORUS

Ladies A cappella group from Exmouth

Our group started a little over 11 years ago with only 8 enthusiastic members and a wonderful Musical director, Maire Hoppins and now we have over 40 members and are going from strength to strength. During the years, as we progressed with our music, we have entered many competitions and festivals. We have won Exeter Music Festival on numerous occasions, have competed twice in the Jersey International Choral Competition coming a very respectable second in our class and have travel to Sligo for a wonderful fun-filled weekend of singing and fund raising for Sligo Men's Barbershop Chorus.

We sing all over East Devon for fun, entertainment and funding raising for charities and have now made two C.D's with profits of our latest album, "And so it goes...." going to Freewheelers Emergency Voluntary Service the registered charity that provides a free out-of-hours motorcycle courier service to hospitals in the South West of England.

Our style of music is very eclectic; we sing songs ranging from "Le Canon" to Adele's version of that wonderful Bob Dylan song "To make you feel my love"

We are very pleased to be asked to sing at Dalwood Music Day and hope that weather holds and everyone has a wonderful time.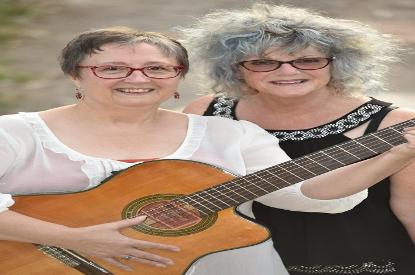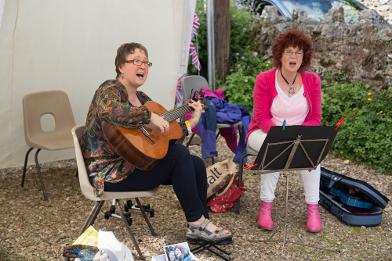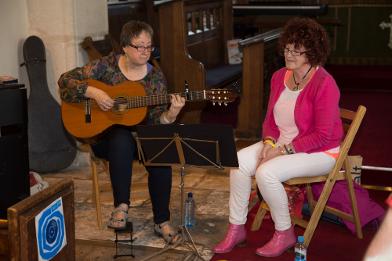 Shirley & Sharon at Dalwood Music Day 2016




SHIRAZ
-
silky, close harmony vocals are the hallmark of these two Bridport singer/songwriters.

Their music has been called folk, sometimes country, sometimes rock … whatever the case, these ladies love to entertain!

2017 appearances will include festivals in Wimborne, Langport, Poole, Bridport, Lyme Regis and many other events ......

Dalwood being a favourite!

Check out the SHIRAZ diary on

www.facebook.com/Shirazsinging or contact Shirley on 01308 424289 for private bookings.

THE KROFT ORIGINALS
- hosts of Dalwood Music Day

The Kroft Originals started about 14 years ago as a small group of 4 friends just singing for fun & trying out

a few harmonies.

We have expanded since then - in every sense of the word!!

Taking part in our very first concert in Dalwood was so nerve-racking that we resorted to taking very little sips!!!!

of the famous sherry from a plastic bottle.... Hence the name!

We now get bookings to entertain at various celebrations - lunches, Christmas parties & local concerts etc.

and we have performed at the Arts Cafe Festival (Arts in the Garden) for about 9 years.

The money we raise goes to Charity. We have supported Devon Air Ambulance, Devon Freewheelers &

the new Hospicecare Centre in Honiton and The Project (another local organisation) & Children's Hospice Southwest

We still sing for fun of course - and we still try out a few harmonies.
We welcome you to our 7th Music Festival and hope you have a lovely Day!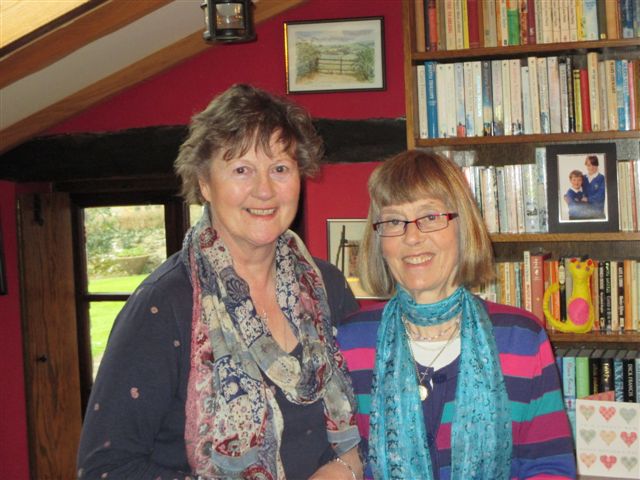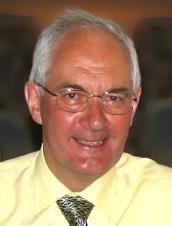 Maggie Lane, Annette Freathy and Michael Bradbury
A trio of keyboard, flute and various early wind instruments playing an eclectic mix of old and new
from Telemann to the Teddy Bears' Picnic
"Piping Hot" are three friends (Michael, Maggie and Annette) who get together to play varied music ranging

from well-known folk tunes to tuneful classics for special occasions, preferably for "good" causes.

They play different "pipes" with keyboard accompaniment.