2016 Musicians and Singers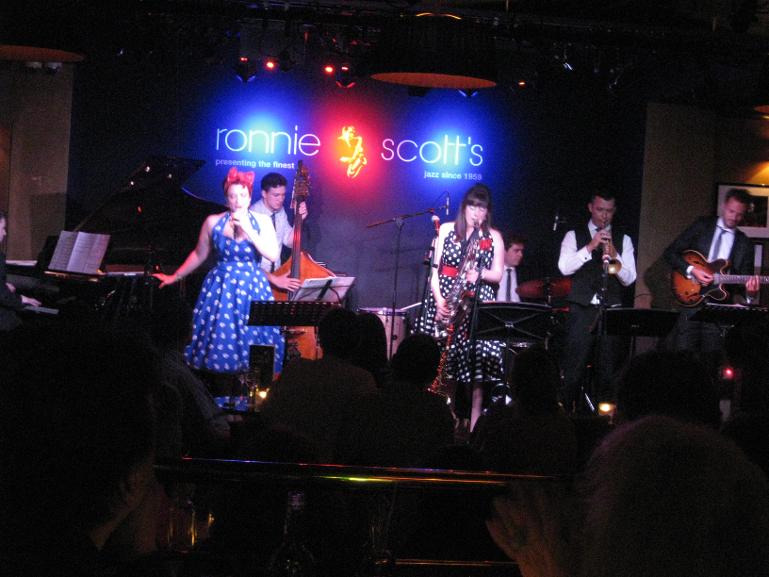 FLISS GORST'S JIVESTAR BAND
The evening Concert for Dalwood Music Day will be given by Fliss Gorst's Jivestar Band
Get your dancing shoes on for some lively R&R !! in the Village Hall at 8pm
or just sit, relax with a drink and listen to some nostalgic 50's tunes
Village Hall 8pm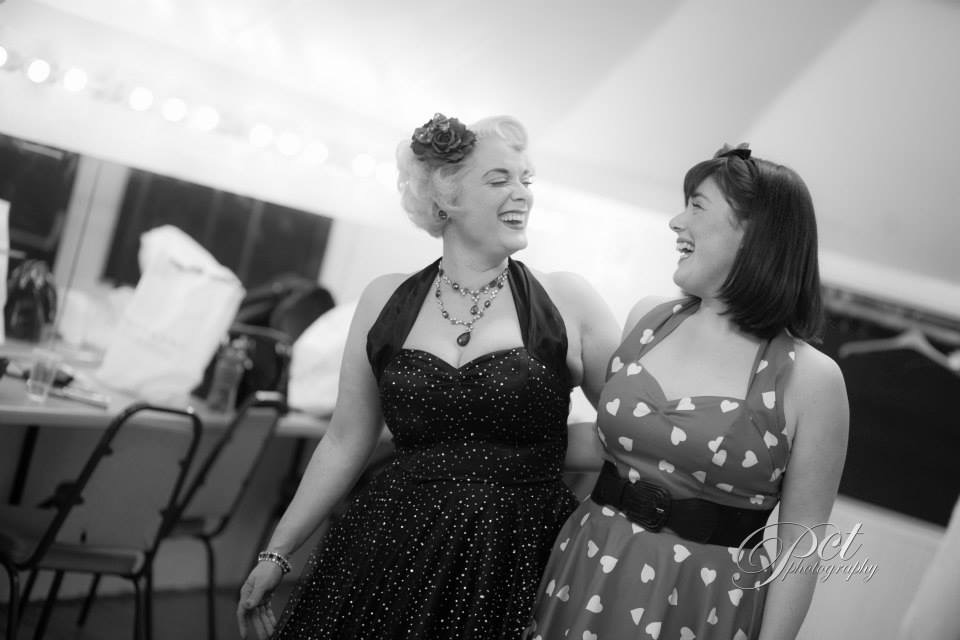 'Jivestar' is a dazzling London based band performing the very best of 1950s
Rock n' Roll, new takes on old classics, authentic swing and jumpin' jive.
The band is led by saxophonist Fliss Gorst (from Axminster) and consists of a stellar line up of fine & experienced musicians who have performed on the main stage at Ronnie Scott's Jazz Club, regularly at The Spice of Life, Soho, and have a enjoyed a residency at Poppies Camden for over three years.
We are excited to be returning to Devon after a fabulous evening at Seaton's Gateway last November. Our performance at Dalwood Music Day, featuring hot rocking' diva Kai Hoffman on vocals, promises to be a real treat!
A little more about Fliss...
Fliss has enjoyed success as a saxophonist, band leader, composer and arranger in London since 2011. Her love for swing/jive greats (Louis Prima, Brian Setzer), more modern feel good music (Olly Murs, Paolo Nutini) and 1950s rock & roll inspired her to form Jivestar. The band has gone from strength to strength since its formation in 2012.
Fliss is also Musical Director for the show 'Celebrating Bond' and 'My Winehouse', a popular Amy Winehouse tribute band. She regularly hosts the Vandojam at The Spice of Life and endorses Vandoren reeds. Fliss also composes and performs with her smaller jazz ensembles 'The Fliss Gorst Quartet' and 'The Fliss Gorst/Dave Boraston' Quintet.
Renowned for her big tenor saxophone sound and 'gorgeous phrases' (London Jazz News) Fliss is a lively, enthusiastic Band Leader who loves nothing more than performing with her band and ensuring everyone in the room has just as much fun as her!
A little more about Kai......
Originally from Boston, Massachusetts, Kai is a versatile, vivacious performer, who is equally at home in a variety of venues.
She regularly performs at Ronnie Scott's and has three releases 'under her belt' - 'Hey Boy! Hey Girl!' (with Ray Gelato and the Giants 2011), & 'Jump, Jive and Swing' (with Kai's Cats 2010), and 'Luckiest Girl Alive' (2015).
Kai has an infectious, cheeky, charm and with a wicked sense of humour, she makes you feel as though she's performing just for you. "With her sexy, sultry 'blonde bombshell' looks that gives just a nod to the good old days…..Kai's vocals are stunning, sassy and explosive, yet soft and heartfelt' (Glenn MacNamara, London Jazz News).
St. Mary's School String Orchestra (Axminster)
with Rachel Burrough - Musical Director
(at last year's Music Day)
THE AXE VALLEY COMMUNITY CHOIR

with Edward Jacobs - Musical Director


The Axe Valley Community Choir was formed to bring together people of all ages and abilities to enjoy the fun of singing together.


As well as the social benefits, members have the opportunity to enhance their singing capabilities and participate in fundraising events within the community.


Our repertoire is extensive and includes a wide variety of popular ballads, both traditional and modern


Members come from all over the Axe Valley and further afield - some from Lyme Regis, Sidmouth, Chard, Honiton and Seaton.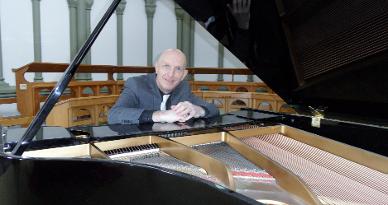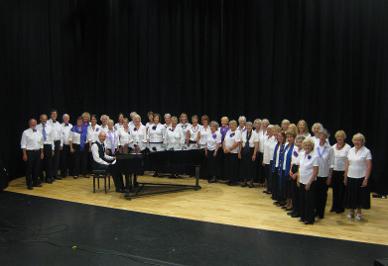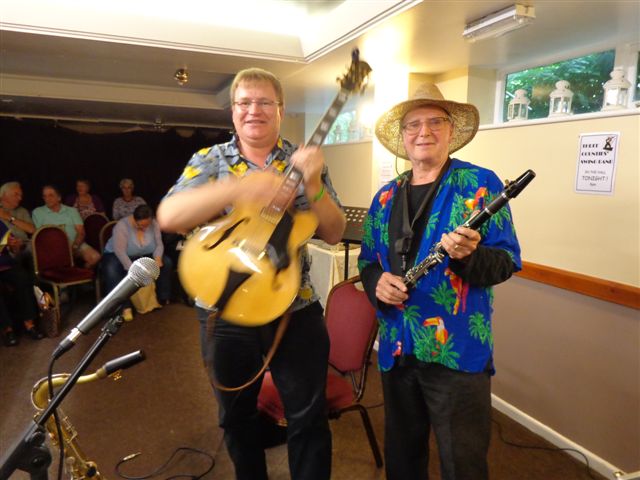 RICHARD LLEWELYN

Brought up in a jazz mad household he has been playing guitar for 43 years so really ought to be better by now. He has worked in education, played with Arcadia Jazz Band for 18 years and has been fortunate to work alongside artists such as Kathy Stobart, John Critchinson, Rosemary Squires, Pete Strange, Chris Gradwell and Henry Lowther and played in support bands for the likes of Humphrey Lyttleton, George Melly, Kenny Ball and Aker Bilk. He has regularly 'woodsheded' with Tony Roberts since 2008 developing musical ideas and techniques and regularly
deputises for other bands.


TONY ROBERTS & RICHARD LLEWELYN

TONY ROBERTS

1955 - 61 Played Clarinet, Bass-Clarinet, Flute and Saxophone in Military Band.
1961 - 71 The London years - Played in the bands of Fat John Cox (Chris Pyne, Ray Warleigh, Pete Lemer, Ron Matthewson) Alexis Korner( Danny Thompson, John Marshall, Ray Warleigh) Big Bands of John Dankworth, Humphrey Lyttleton, Kenny Wheeler, Mike Gibbs, Graham Collier, Eddie Harvey. Had a short-lived trio with John McLaughlin, Danny Thompson. Extensive Studio and session work. Worked with 3rd Stream composer Gunther Schuler on his Opera "The Visitation" for BBC2 in 1967.
1971 - 92 Retired Hurt! Groups and albums with John Renbourn, Danny Thompson's Trio "Whatever" Live Album with Ray Russell, Simon Philips, American Bass-Guitarist Anthony Jackson "Force Majeure"
1992 - Present day residing in West Dorset and playing in local groups (Arcadia) and leading his own trio with Richard Llewelyn and Ben Taylor, while collaborating in tribute projects such as Blue of a Kind ( Miles Davis " Kind of Blue") Art Blakey Jazz Messengers Tribute Band and Birth of the Cool( Miles Davis tribute Nonet)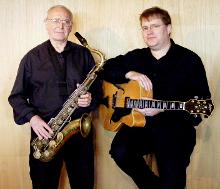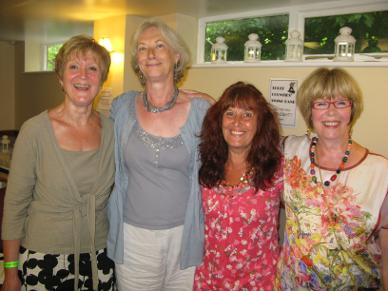 Sally Reed Jenny Hackett Caroline Rigby Hilary Highet

BOSOM FRIENDS
We started singing together in 1987 at Jenny's house in Stockland, East Devon.
Caroline had been singing and playing at folk clubs in Cornwall and was the only musician amongst us - the rest of us learned by ear.
Sally, a born performer; Jenny just loved to sing; and Hilary hadn't sung since school choir!

Over the years the three of us have learned to read music as a result of all that listening. Caroline now runs community choirs. Jenny sings with an all-women a cappella group, Sally and Hilary sing with classical choirs.
We continue to enjoy making music together, singing a variety of unaccompanied songs – old and new - from around the world, and doing what we love to do – harmonise.

CITY STEAM



City Steam is a Devon based band with a reach covering the south-west from Penzance to Bristol to Dorchester.

Formed over 25 years ago, City Steam is one of the longest running jazz bands in the south-west. Over time it has drawn on a wide pool of musicians with founder-member Dave Martin ensuring continuity.

City Steam plays an eclectic mix of jazz, largely from the 1920s and 30s, with a style rooted in the songs, rags and marches of New Orleans. Its repertoire also reflects the variety of musical tastes of the band members by including later jazz songs, ballads and dance tunes as well as more modern rocking blues and numbers with a lively Latin feel.



The City Steam name has an unlikely origin. When the band first came together we looked for a catchy name to help launch us on the gigging scene. The drummer at the time carried all the heavy bits of his kit in an old laundry box which he had found in a recyling centre. There on the lid was the clue to a new identity:
And so The City Steam Jazz Band was born. In its heyday the Exeter Steam Laundry was located in Edgerton Park off Pennsylvania Road in Exeter. The building was demolished long ago and on its site now stands a housing estate.

"eMu"
Jon Maybey & Mike Highfield met in 2013 as a result of the music events Jon was organising at The Dolphin in Wellington and they soon collaborated as Beat Flute Jam, to fill a performance spot in June 2014. Things went well and they appeared at a cider festival and decided to team up and perform their own compositions under the name eMu (electraloop music).

The sound of eMu combines digital effects and traditional acoustic folk instruments with the live looping of percussion and string accompaniments. Theymostly play their own compositions that can be gentle melodic pieces to faster foot tapping tunes that encompass the folk sounds found in England, France and Ireland. The large range of instruments and different rhythms guarantee the musical set to be varied and a song may even appear from time to time.



THE DUNCAN ANSELM QUINTET

After meeting Tony and Rich at the Ilminster jam sessions, it soon became evident to me that we should form a band. Initially, the idea was to work on arrangements of tunes by some of the great Blue Note artists of the 1950s and 60s such as Hank Mobley and Sonny Clark, but the repertoire now includes Monk tunes and original compositions by members of the band.

'We chose Geoff Gordon on drums partly because he had a shiny drum kit but mainly because he was the only one who turned up for the audition!!'


The Corrydale Singers

We take our name from the Corry Brook that flows through

Dalwood. For over 30 years the Corrydale Singers have been

entertaining Dalwood and the surrounding villages. Our

annual show is in August, for 4 nights in the week following

Dalwood's famous Country Fair and at Christmas we host an

event staring village organisations. We are pleased once again
to be a part of the Dalwood Music Day, and will be singing a

selection of songs from this year's production – 'The Summer
Sunshine Show'.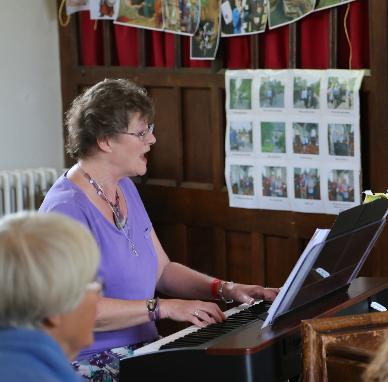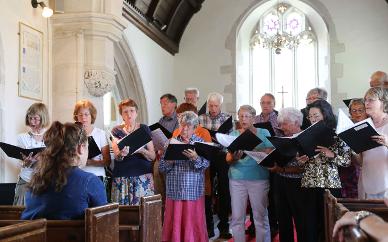 MAGGIE'S MIX from Yarcombe
with Maggie Lane at the piano