THE MAGGIE REEDAY QUARTET
Maggie Reeday is one of the country's finest singers and has worked in both television and radio over the years with some of the greatest international musicians including Scott Hamilton, Mark Nightingale, Dave Green, Digby Fairweather and many more....
Maggie's style is unique as she not only portrays some of the great Jazz standards but her smokey voice lends itself beautifully to the more soulful and blues songs....she has a wealth of knowledge of tunes and styles to accommodate all occasions and is highly regarded by her peers...miss her at your peril !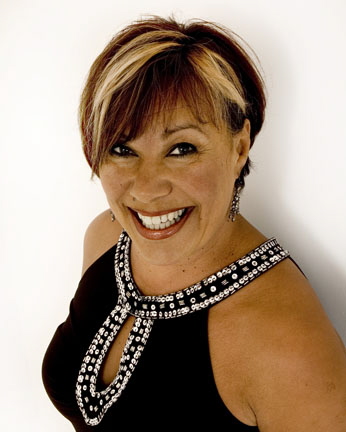 Maggie will be joined by James Clemas on piano, Jim Newton on drums & Jim Rintoul on bass
If you came to The Tuckers Jazz Club in November 2015, you'll know you're in for a treat!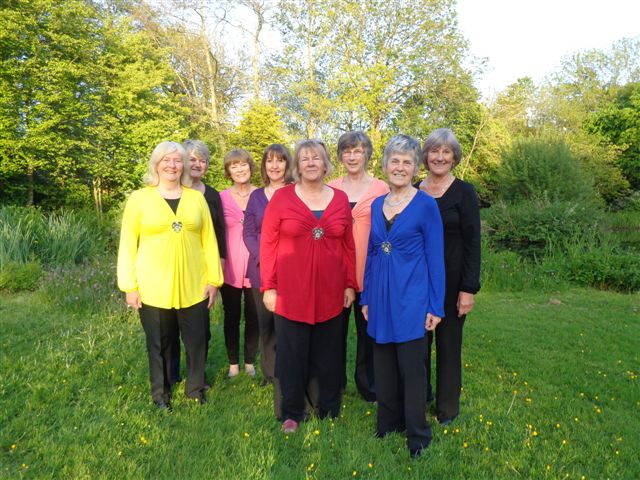 THE KROFT ORIGINALS

hosts of Dalwood Music Day

The Kroft Originals started about 12 years ago as a small group of 4 friends just singing for fun & trying out a few harmonies. We have expanded since then - in every sense of the word!!

Taking part in our very first concert in Dalwood was so nerve-racking that we resorted to taking very little sips!!!! of the famous sherry from a plastic bottle.... Hence the name.

We now get bookings to entertain at various
celebrations - lunches, Christmas parties & local concerts and we have performed at the Arts Cafe Festival (Arts in the Garden) for about 9 years.

The money we raise goes to Charity. We have supported Devon Air Ambulance, Devon Freewheelers & the new Hospicecare Centre in Honiton and The Project (another local organisation).

We still sing for fun of course - and we still try out a few harmonies
THE OLD PECULIARS
Barber-shop style Singing Group from Dalwood
directed by Kathy Laing
They will also be helping to host
Dalwood Music Day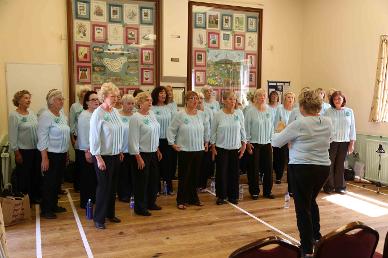 RENAISSANCE CHORUS

Ladies A cappella group from Exmouth

Our group started a little over 11 years ago with only 8 enthusiastic members and a wonderful Musical director, Maire Hoppins and now we have over 40 members and are going from strength to strength. During the years, as we progressed with our music, we have entered many competitions and festivals. We have won Exeter Music Festival on numerous occasions, have competed twice in the Jersey International Choral Competition coming a very respectable second in our class and have travel to Sligo for a wonderful fun-filled weekend of singing and fund raising for Sligo Men's Barbershop Chorus.

We sing all over East Devon for fun, entertainment and funding raising for charities and have now made two C.D's with profits of our latest album, "And so it goes...." going to Freewheelers Emergency Voluntary Service the registered charity that provides a free out-of-hours motorcycle courier service to hospitals in the South West of England.

Our style of music is very eclectic; we sing songs ranging from "Le Canon" to Adele's version of that wonderful Bob Dylan song "To make you feel my love"

We are very pleased to be asked to sing at Dalwood Music Day and hope that weather holds and everyone has a wonderful time.


TRI-CHORD
A dynamic trio featuring well known musicians James & Hilda Clemas (of "Jazz Lounge" fame) and Edward Jacobs.
A great sound is promised with vocals and dynamic multi keyboards.... Up-tempo, Jazzy, Modern and Romantic Renditions of well known popular songs.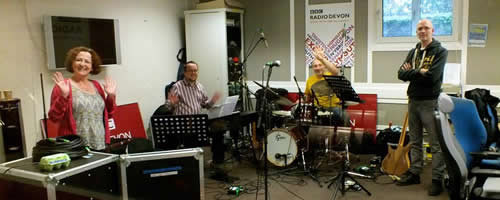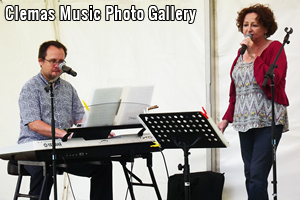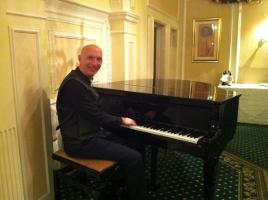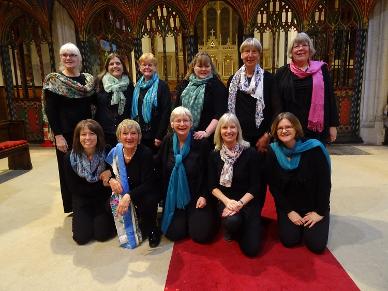 VIVA
We are 'Viva', a newly formed women's choir, drawn mainly from the long established and acclaimed Sheldon Singers. We are a small, but perfectly formed group of twelve friends who meet up in Honiton once a month to sing, chat, sing, laugh and above all, sing.
Led by the musical dynamo Julie De'Ath Lancaster, we enjoy a wide variety of styles from Schubert & Brahms to Rutter & John Denver.
We are very much looking forward to being part of Dalwood Music Day, when we will be accompanied on the piano by Paul Hockey, a patient man who will no doubt keep us in order.

WOODBURY WIND

Woodbury Wind is a many-sided ensemble of wind players who have been playing classical music in and around Axminster for over 30 years. Over that time they have performed in ensembles of all sizes from trios to Mozart's piece for 13 wind instruments, and in various venues – churches, church halls, in Axminster's twin town in France, Douvres-la-Délivrande – and for various events – concerts (including Music at the Minster in Axminster), weddings, church services, local festivals. One of the founder members is playing today – Jane Godbeer (oboe). The programme today will be light-hearted pieces for a summer's afternoon played by flute, oboe, clarinet and bassoon.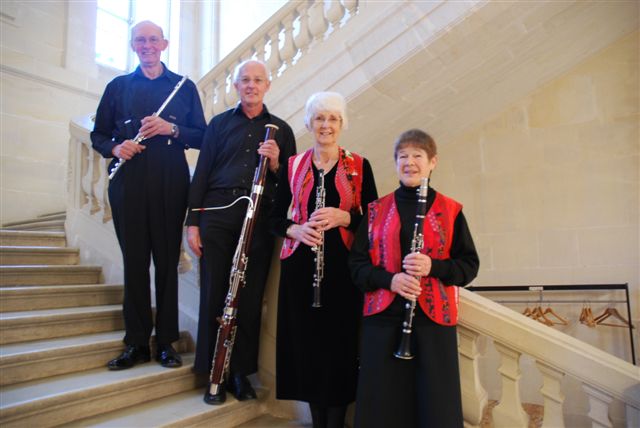 SHIRAZ

SHIRAZ - powerful close harmony vocals are a hallmark of these two Bridport singer songwriters. Their music has been called folk, sometimes country, sometimes rock …. what ever the case, these ladies love to entertain!

Summer 2016 will be busy with appearances at Wimborne, Poole and Lyme folk festivals, to name a few, and Dalwood is a favourite!

For upcoming Shiraz events, check out www.facebook.com/Shirazsinging

or contact Shirley – 01308 424289
With guitar, piano and violin, SHIRAZ perform at festivals, events and private gigs across the South-West.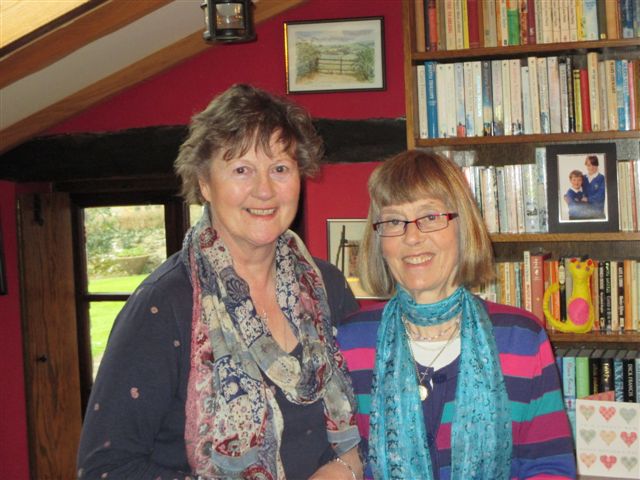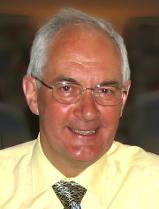 Maggie Lane, Annette Freathy and Michael Bradbury

A trio of keyboard, flute and various early wind instruments playing an eclectic mix of old and new
from Telemann to the Teddy Bears' Picnic
"Piping Hot" are three friends (Michael, Maggie and Annette) who get together to play varied music ranging

from well-known folk tunes to tuneful classics for special occasions, preferably for "good" causes.

They play different "pipes" with keyboard accompaniment.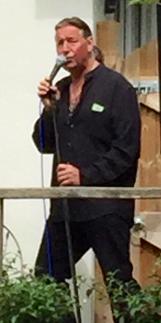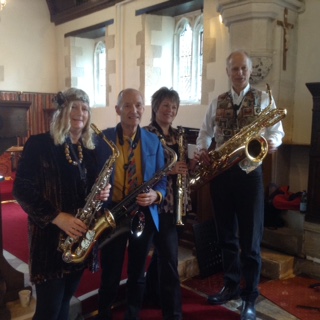 Dave Bennett from Dalwood Black Coffee

E. Devon based Saxophone Quartet