Dalwood Mini-Music Day returns on
Wednesday 9th August 2023.
Three venues -
St. Peter's Church and The Village Hall
and The Tuckers Arms
11.30am - 10pm
Musicians and singers:
Alan West and Friends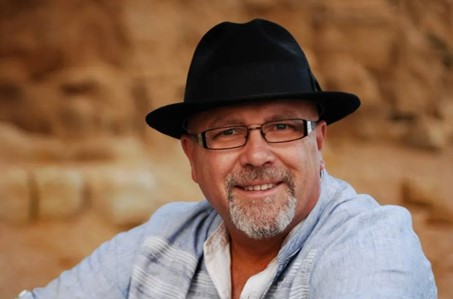 Alan West, for many years, has been regarded as having one of the finest country
music voices to come out of the UK. His emotional, yet informative way of singing
a story, has moved many an audience all over the world.
Singing songs he believes in, songs full of emotion, images, stories and truths, is
where he's at home. Expect interpretations of familiar country, Americana & folk
classics and an introduction to not so familiar songs and indeed songwriters, and a
unique, emotional, dynamic and entertaining show.
Today he is joined by Adam Sweet on guitar & Nick Bayes on bass......


"If you are true to the music, the music will be true to you, and Alan West is very
much the embodiment of that for me" - BOB HARRIS OBE, BBC Radio 2


"Alan West is a UK Treasure. His masterful interpretation of both classic and original
Americana songs, together with his easy-going stage demeanour, gives the
impression of a laid back, front porch musical presentation, but with the
professionalism that very few can carry off so effortlessly". Maverick Magazine
The Chantry Buoys

Another year and The Chantry Buoys are a little more crabby. Some of us are
sporting new mullets though. Why not hake your way along to a Chantry Buoys'
gig. You won't hear any rock or sole but you will hear us ling some songs in
The Quay of Sea. You know it's going to be brill. Never mind the pollack, it's .......
The Chantry Buoys!
Dave Newton and Craig Milverton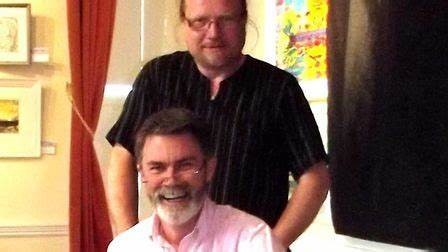 Two of Britain's top Jazz Pianists ,and Multiple UK Jazz Award winners Dave Newton
and Craig Milverton perform together in possibly the most difficult duet pairing of
all given the potential multiplicity of notes involved . With great skill, tastefully
chosen repertoire, almost telepathic communication and much mirthful musical
humour , Dave and Craig provide a truly standout show worthy of their respective
Jazz Heritage .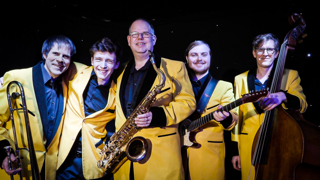 Cadillac Xpress plays top-quality Rock n' Roll music from the 50s and 60s, with a range of songs
from well-known artists including Bill Haley & The Comets, Little Richard, Jerry Lee Lewis, Fats
Domino, Chuck Berry & Elvis Presley. Audiences never tire of their music – and the infectious
rhythms will soon get you up on the floor and dancing!
The Band features 4 of the UK's top musicians playing sax, keyboard, guitar, bass, drums & vocals
The exciting, lively sound appeals to audiences of all ages making Cadillac Xpress one of the most
popular R & R Bands.
Jeremy Huggett- sax, keyboard, vocals, Tom Harvey - guitar,
Simon Smith - bass and Steve Street - drums

"We sing unaccompanied in four-part harmony, using just our voices to create
the music".
Exmouth A Cappella is a Ladies' Close harmony Chorus which has been
singing all genres of songs - from "Queen" to "Elbow"- since 2005.
They take singing to the next level — not simply a single tune but 4 part
a cappella harmony: music created from four different voice parts that blend
that beautifully into one chord.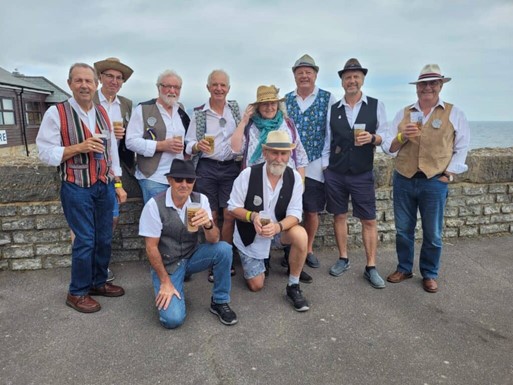 Our journey began back in 2011, when the founding Members of The Jurassix were
all singing in local Choirs. Us boys tried singing a few Sea Shanties and realised we
had a real appreciation of shanty music. We tried a few "turn up and sing" events
and discovered that people liked listening to our brand of shanty singing - so
The Jurassix were born! Choosing a name was easy - we all live on the Jurassic
Coast, there was orginally six of us, we are all of a certain age - so that's how
The Jurassix became the name of our Shanty Band.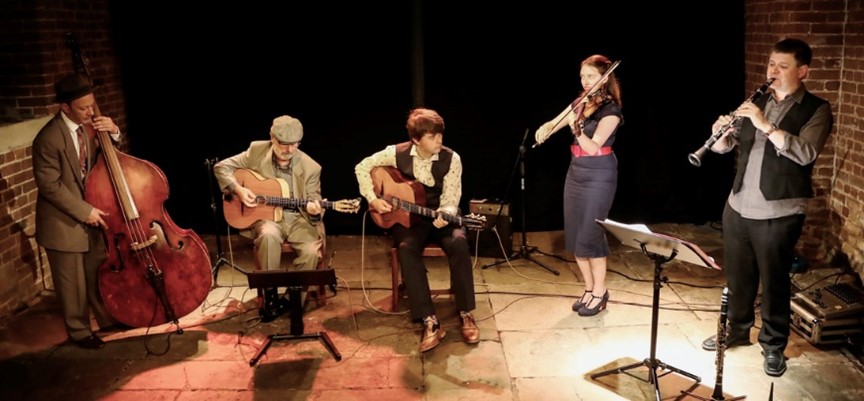 The heartfelt wail of the blues; the sultry heat of the campfire; the crazy swirl of the
bal musette, all fused together ​with virtuosity and passion in the melting pot of
1930's Paris: the result was gypsy jazz.

Now 'LA VIE EN ROSE' play this exuberant, toe-tapping music with a swing and joie-
de-vivre as fresh today as when Django Reinhardt and Stephane Grappelli first
conjured it from the back streets of Pigalle.
Rebecca Willson - violin. Nick White - clarinet. David Jones - guitar
Laurie Light - guitar and Yann Mahjoub - bass
THE PEAK DISTRICT YOUTH ORCHESTRA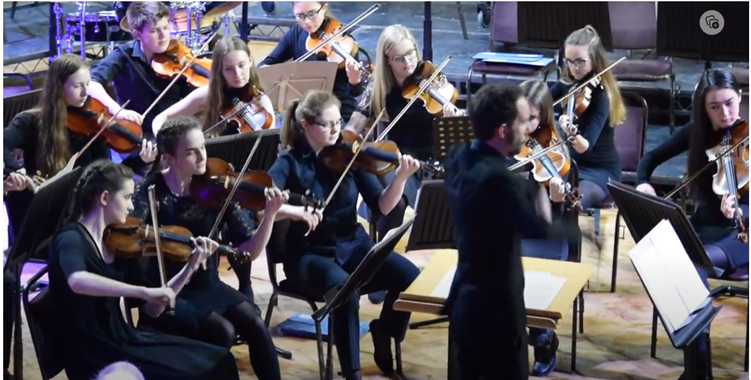 The Peak District String Orchestra
The Peak District String Orchestra is Peak District Music Centre's senior string
orchestra. Students are usually mid to late teenagers. The orchestra has a fine
reputation and over the years has performed in prestigious venues, including the
Royal Albert Hall.
With the enjoyment and enthusiasm that comes from being part of an ensemble,
and encouraged by a wonderful team of experienced and dedicated directors and
players, our young musicians gain in confidence and skill with every rehearsal.
ThePeak District Orchestra is directed by Gavin Usher
THE NEIL MAYA QUARTET
"The Cartoon Jazz Project"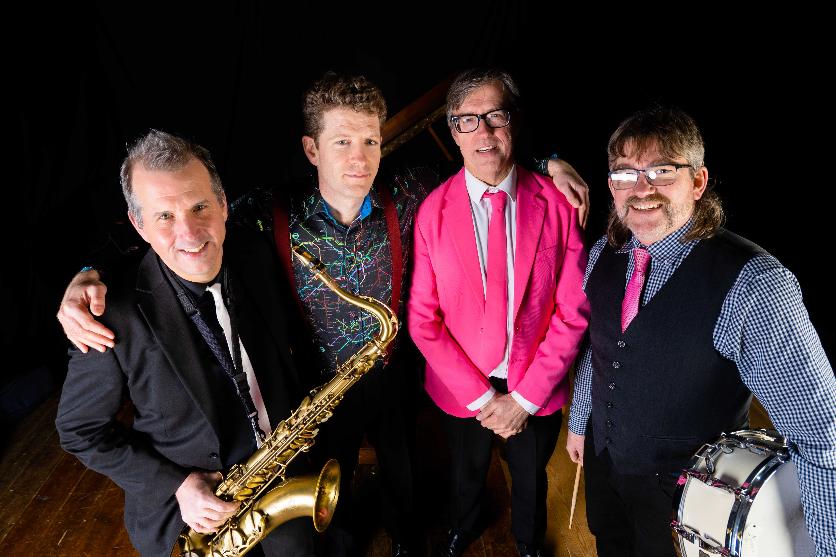 The Neil Maya Quartet is a collective of some of the finest musicians based in the
southwest today, dedicated to bringing you some of the finest jazz-based music
that has ever existed.
Over the years the band has played at most jazz venues in the Southwest and
beyond. Playing with Neil are James Clemas (keyboard), Gary Evans (drums) and
Kevin Sanders ( Bass)