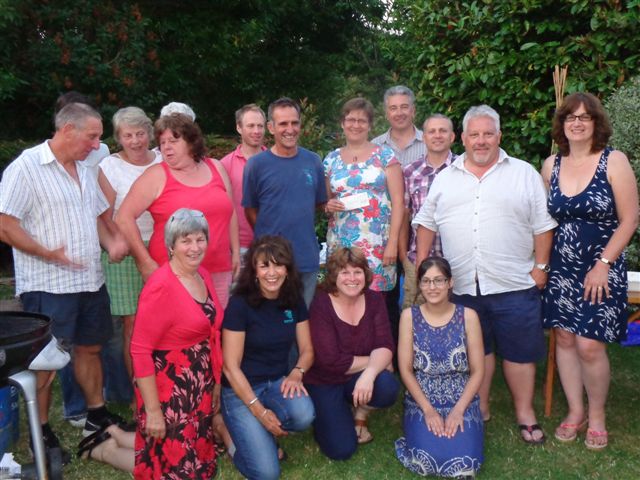 Members of the Dalwood Raft Club 2013
In the garden of the Tuckers Arms

Tuckers Arms Raft Club
The club origins lay in the fun raft races that happened on all the local rivers, such as the Axe, Dart, and the Exe, which teams from the Tuckers Arms regularly and successfully competed in. On a suggestion from David Beck that a proper race should be attempted, and with the support of an enthusiastic group of villagers, a crew was put together under the captaincy of Dennis Freeth to take part in the 1992 race and the Tuckers Arms Raft Club was born. Set up as a fund raiser for Children's Hospice South West, rafting was a vehicle to achieve this, and it was not expected to continue more than two or three years. From these beginnings we have challenged the Wye yearly as well as, amongst others, the Dart Exe and the Minehead sea race, going as far afield as the Thames for the Great River Race. Our core activities remain fund raising, social and raft racing, along with a large splattering of marquee erections as this forms the bulk of our means to get money. We own marquees of various sizes which we hire and erect. Yes, we are advertising!
So up to present day this is our 20th year! We have raised in excess of £40,000 for various local charities, including the hospice, Jimbo's Wheels, Honiton Youth Club, Vrance House, Dalwood School, Flamingo Pool, The Hub in Lyme, St.Petrocs in Exeter, RNLI, Axminster District Nurses, St John Ambulance Wheels Appeal, Motor Neurone Society and Churchtown Activity Holiday Centre, with a preference to buying equipment rather than just donate funds.
Current villagers who are or have been involved in the rafting side include whole families of the Goulds, Sewards, Gostlings, Huskins, Olivers, Majors, Pulmans, Freeths, and Frys, and on an individual bases Adam , David Dower, Tracey, Sam Thomas, Eastburns on back up and of course the ever continued support of the Tuckers Arms. I'm sure we have forgotten some, so apologies for that!
This year we enter a new era, we are for the first time entering a ladies ten "ladies" team, as well as a ten man team. New ground which may become the norm!
We look forward to helping Tina & the Kroft Originals on the music day. We will be manning the barbecue to raise funds for new paddles as well as our designated charities for this year, so any donations would be greatly received.